Comprehensive LASIK Eye Surgery Consultation and Care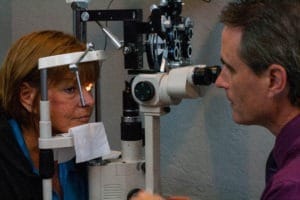 Are you tired of wearing glasses or contacts every day? Have you been considering corrective eye surgery?
Approximately 16.2 million people around the world have opted to get Laser-Assisted In-Situ Keratomileusis (LASIK) to see clearly without any lens assistance.
If you're considering LASIK, undergoing the procedure is one of the last steps in the process. While iCare Vision Center does not perform surgeries, our LASIK consultation can help you assess whether or not you're a good candidate for the procedure.
If you decide to move forward with corrective eye surgery, we specialize in and can assist with your pre- and post-surgical care.

The Value of Second Opinions when Considering Laser Procedures
Lasers aren't magic. The advantage of starting your LASIK or PRK (photorefractive keratectomy) journey with us – eye care experts with no financial stake and completely unbiased – is that we'll only recommend procedures that will help you and make your life better visually.
Get Diagnostic Laser Testing Services
Lasers aren't only for corrective surgery. They also accurately track eye movements to find prescriptions for eyeglasses and contacts and test for eye pathologies, such as
Glaucoma; and
Macular Degeneration
iCare Vision Center's Role in Your Laser Procedure
Your eye care is our top priority. When you come to see the eye experts at iCare Vision, we'll help you pick a good treatment and doctor.
Consultations for PRK surgery since 1998
PRK physician referrals
Initial LASIK eye surgery consultations
LASIK procedure referrals
For more than two decades, iCare Vision has taken an active advisory role to help guide patients through their laser corrective surgery options.
While we essentially lose a long-term patient when the decision to get LASIK is made, we are more concerned about what's best for our patients and will always steer them toward the visual outcome that's best for them.
We are committed to helping our patients be proactive and thoroughly understand the procedure. Unlike laser centers that can be aggressive and not cautious enough in the consultation phase, we offer a comprehensive consultation in a laid-back environment where we take the time to hear all concerns and answer all questions.
We have no patients to date that have regrets post-operation after taking our advice and recommendations.