Contact Lens Exams & Fittings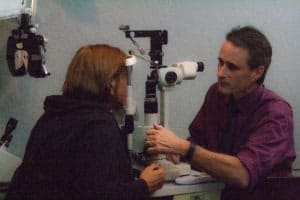 If you are interested in contacts, or you already wear them and feel your eyes would benefit from a different prescription, a contact lens exam will match your exact vision needs with the appropriate prescription contact lenses.
At iCare Vision, we have over 100 years combined experience – several staff have been fitting contacts since the early 1970's. Rest assured, your vision is in good hands here.
What to Expect During a Contact Lens Exam
New Contact Wearer
During your contact lens exam, the doctor will test your vision and your eye health to determine what type of prescription contact lens are best for you. There are many different types of contacts, from daily disposables to overnight wear, so your doctor may also ask you general questions about your lifestyle to find out which of these types you'd benefit from the most.
If prescription contact lenses are worn improperly or do not fit, there can be serious consequences. That's why one of the most important parts of the exam is the contact lens fitting.
Contact lenses are made to fit all eye shapes and sizes. During your contact lens exam, the doctor will measure the curvature of your eyes and possibly the size of your pupils. Most importantly, the doctor will test the health of your eyes' surface.
For those with eye issues such as corneal disease, including:
Hybrid lenses (soft and gas per molded together)
Scleral lens (larger fits to white of eye)
Toric lenses (correct astigmatism)
UV, tinted or transition lenses (help with bright lights)
Follow-up visits after wearing trial lenses is vital so the doctor can check for defects and make sure your lenses are not damaging your eyes.
At the end of the exam, you'll select trial lenses so you can determine if the comfort and vision they provide are right for you. If you're new to contact lens, the doctor will teach you how to insert, remove, clean and care for them.
Current Contact Wearer
Your contact lens exam will be very similar to that of a someone new to contacts, but our doctors can also help you address any problems you're experiencing, such as:
Dry eye
Unstable vision
Discomfort or "scratchy" feeling
What to Expect After a Contact Lens Exam
After wearing the trial prescription contact lenses for a short period of time, you'll return for a follow-up visit. Together, you and the doctor will ensure that your trial lenses fit properly, are comfortable and provide good vision. The doctor will then give you a contact lens prescription.

Schedule Your Contact Lens Exam & Fitting
Call or fill out our online form found in the top right section of this page to schedule an appointment with Dr. Wineland or Dr. Sanders (formerly Dr. Kenny) in our Mount Vernon office.
Whether you want to change your look, be freed from glasses during your favorite activity, or are experiencing one of the symptoms below, we look forward to helping you find the right contacts:
Sudden or gradual changes in vision
Blurred vision
Spotty vision
Eye pain or strain
Recurring headaches